Wacko In A Motorhome
---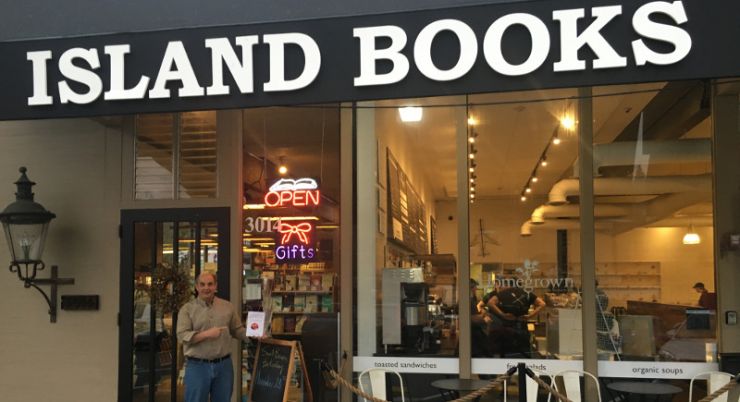 16 down, 349 to go. In Seattle.
_____


Very early on, when I decided to write the book, I had this crazy idea of driving a motorhome all over the country placing them in bookstores. At some point I had enough lucidity to realize I had better check with someone in the book industry to see if my plan might work.
So I invited the owner of a local bookstore to lunch! And what do you know, he accepted!
I met Roger Page for lunch at the sandwich shop next to his bookstore and I showed him some ideas I had in mind for the cover and told him the idea of driving the motorhome all over and then waited for his response. Well, to say Roger was skeptical would be an understatement. He didn't know me, he didn't know if I could write, and he didn't know what my book was going to be about. But he said two very important things: 1) the motorhome was the most important part of my plan as it would make me a "traveling road show" and that he, as a bookstore owner, would be very interested to have something like that parked outside his store attracting attention, and 2) if the book wasn't any good, I could easily be seen as a "wacko in a motorhome."
A wacko in a motorhome. Try swallowing that one without flinching. What everyone hopes one day to aspire to!
Well, today I took him some copies of my book - the first real, printed copies he's seen. After looking at the cover, and a couple of pages, he looked up at me with a smile and said, "It doesn't look like a wacko wrote this to me."
He proceeded to tell me about marching against the Vietnam War back in the 60's as a youth and how he doesn't understand why people today aren't marching against the lobbyists and billionaires having so much influence over their government. He was very passionate. A side I hadn't seen of him. Everyone has an interesting story in them.
The book is now available at Island Books on Mercer Island, Washington. Roger said to call him if you have any questions about the book. (I think he's proud of me!)
Switching gears - is it bad that I started listening to a little Christmas music already? To this day my favorite Christmas album is the soundtrack to A Charlie Brown Christmas by the Vince Guaraldi Trio. If you order it, get the original, and not the remastered version. Lots of behind the scenes stuff happening - website being built, motorhome still being prepped, PR materials being developed. I'm ready to get out on the road.
Robot Man texted today - he and the motorhome are besties now. Oh, and he wanted me to tell you "hello". Wacko in a motorhome - ha!