The People Meet The Candidate
---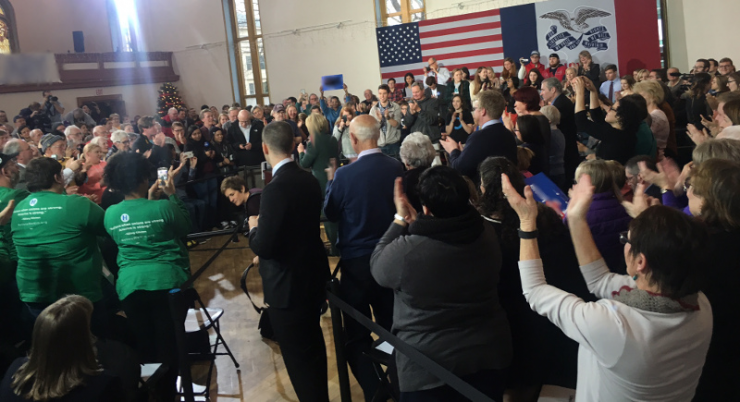 39 down, 326 to go. In Iowa City.
_____


Today I joined a couple hundred Iowans and went to see one of the presidential candidates speak. I wanted to see how the process worked and I wasn't disappointed - well, not entirely.
The part I loved to see was the people getting to see the candidate, live and up close. They got to ask questions. The candidate had to face up to and see the people, and answer those questions.
The part that concerned me was what looked a bit from my perspective as blind hope that some people had that this candidate would be the one to make everything okay. If you've read my book, I posit that the system is broken and it will take pressing the reset button to really force change, not by electing a new candidate, even if they are an "outsider".
I chatted with both people sitting on either side of me. On my left was a sweet grandmother who works part time to help cover living expenses - her husband does the same. She had a picture of her grandchildren printed on her purse, which she proudly showed me. She wasn't committed to the candidate speaking, but was there to listen.
On my right was a shy community college English teacher who was trying to correct his students' classwork as we waited - he admitted it was fruitless due to "people watching". He too wasn't sure who he was going to vote for but wanted to come and listen.
Really nice people. Friendly. Concerned about the country's future. Both agreed this was a very important election for our future.
When I considered the array of people in attendance, including the guy two people to my right that had two teeth and had no problem yelling whatever he wanted, when he wanted, it struck me newly how courageous (or maybe even crazy?) it was that those who wrote our Constitution actually put the control of the country into the hands of the citizens. They knew that no republic or democracy had survived very long in all the ages. The citizens of the U.S. at that time were mostly uneducated farmers. Imagine those incredibly educated and successful people putting the fate of our country into the hands of the populace. I find it astounding and is why I sit in yet another Walmart parking lot overnight as the cold wind outside rocks the rig. That idea that was boldly cemented into our Constitution won't endure unless we act intelligently, and do whatever we can to ensure its long endurance.
Temp is in the 20's with high winds tonight. I sleep with a wool blanket and two down comforters so the rig's heater doesn't have to overwork. The southern states are looking mighty inviting right now.
Destination tomorrow unknown.