The Girls Of Adel
---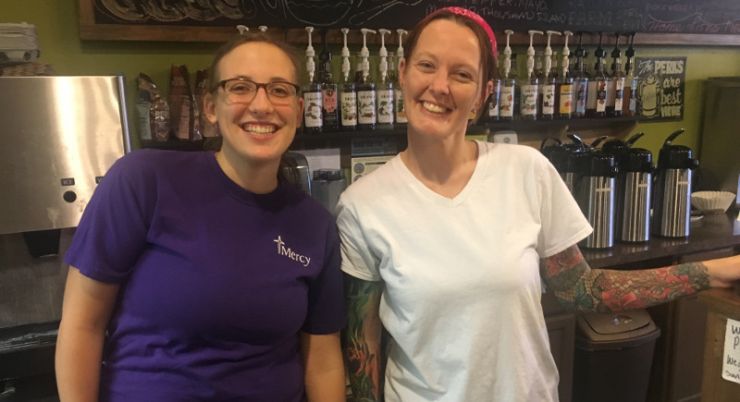 37 down, 328 to go. In Des Moines.
_____


My guest and I ventured 30 miles west of Des Moines today to visit the cool little town of Adel, Iowa. We had lunch at Brick Street Books and Cafe. And who did we run into but very friendly folk.
Here are two of the gals who work there - Shelly is in purple and Michelle in white.
Shelly: "I hiked the Pacific Coast Trail this summer. I love the Sierra's. Some of the scenery I saw was - I can't even describe how incredibly beautiful it was."
Michelle: "I used to be the manager at a tattoo parlor and so when the artists got bored, they'd work on me. Now I work here as a manager and life coach to help the developmentally disabled that we employ so they can learn job skills."
Very happy, productive, friendly ladies. They brightened our day in Adel.
I stopped by a local bookstore called Beaverdale Books - they were happy to consign three of the books.
The rain finally stopped but the rivers are about to burst. Temperatures in the 30's tonight. Why don't I just head south? They have roads and I have wheels. Hmmmm.....
Des Moines again tomorrow.